**information provided by On Pedder official press release. Personal thoughts are mine:) Sections from the press release are "quoted", Pictures provided by On Pedder official press release and collaged by me
hello hello
A few days ago [June 19,2013], I had the privilege of attending the exclusive Nicholas Kirkwood autumn/winter 2013 collection preview hosted by On Pedder Singapore.
If you live in Singapore too, you would probably remember how intense the haze got on that night but I knew this was an event not to miss! I rushed down to On Pedder and woah did I make the right decision! I would've never forgiven myself if I had missed this event!
A little bit about the shoe extraordinaire
[Nicholas Kirkwood]
"Nicholas Kirkwood launched his debut collection in Spring 2005 to challenge the conventions of woman's luxury footwear. Beyond his label, Nicholas has worked alongside established and emerging brands to create shoes for their runway shoes, such as Fendi, Erdem and Peter Pilotto"
The Autumn Winter 2013 collection features bold architectural lines; "taking a subtle reference from the wave inspired curves of Spring Summer 2013 collection to form defined arches." This collection was no exception to his love of witty and quirky embellishments such as "mesh, fur and sheer frill; all which help execute this playfully decadent collection perfectly!"
Here are some of my favorites!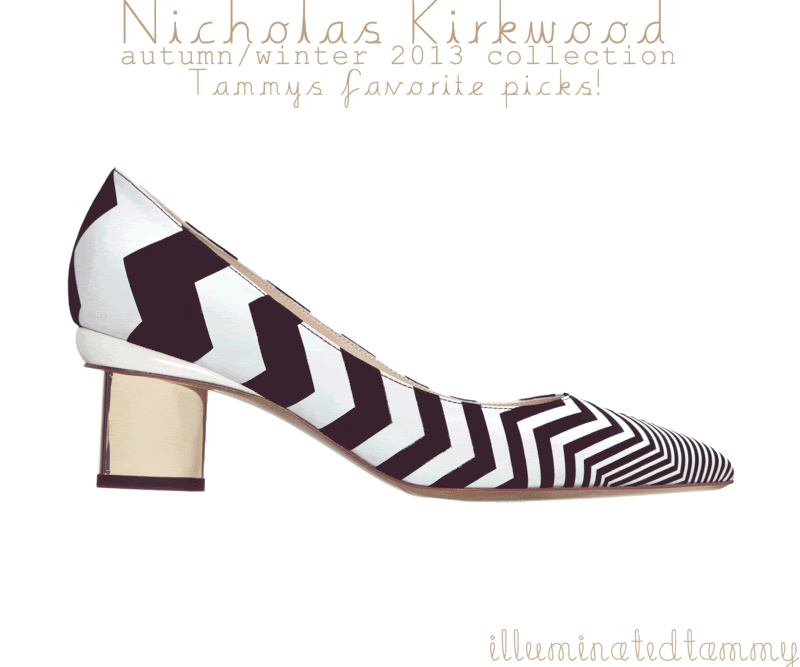 It was amazing seeing the collection up close and personal, they were absolutely exquisite.
I loved that the collection was a mixture of elements. I could see a variety of women wear this collection, a fun bold girl heading to a 70s party could be seen rocking the low triangle heel pump in black and white chevron printed suede with a touch of the beautiful gold chrome heel; alternatively, a woman looking for a more subtle but powerful pair of statement heels could go for the ever feminine elegant laced high heel pumps with a contrasted strong bold textured gold heel.
If I had to pick my absolute favorite pair, it would most definitely have to be this pair!
I was chatting with Nicholas about how in love with them I was and that I would have totally worn them to the Great Gatsby Tiffany premiere I attended a few weeks ago if I had seen them then! I was in LOVEEE with everything about this pair of shoes! How elegant and sophisticated are the baby pearls around the rim of the shoes? It would glam up any little black dress! The other thing I adored about this design was the gold chrome heel, I thought it was extremely chic, classy yet ever so powerful; it definitely makes a statement! Even though I love wearing high heels because I'm a shorty! I definitely still gravitate towards flats so this pair of low heel is the perfect marriage combining my two favorite things! A hybrid of a high heel and flats. love love love!
Now, I've got to re-emphasize that even though pictures are amazing, you've got to see them in real life to fully experience how exquisite and beautiful these shoes are! Try them on if you get a chance and I'm sure you'll fall in love with them as much as I have! <3

Photo opp time! :) On that note.. I apologize for the delay of the Peter Pilotto post too! I've just been so busy! good busy though!<3 But how cool huh? Meeting Peter Pilotto and now Nicholas Kirkwood yay! 2013 rocks!
It was such an honor meeting Nicholas after having been such a fan of his designs in my college years. Who knows! maybe one day I could be collaborating with him for my runway collection shoes;) A girl can dream!
Since this is my first post ( most definitely won't be my last) about my favorite place to shop for shoes, I thought I would give On Pedder a little shout out <3 For as long as I could remember, I spend many Sundays at On Pedder with Mom! From the young age of only 11-13? I don't remember exactly but it was a very very long time for sure! This was when the store was still in it old white wall layout with two doors! and now to its beautiful brown chic interior! From watching my Mom shop for pretty shoes/bags/accessories etc to becoming a customer myself! I still remember my first purchase was the silver Marc by Marc Jacobs mouse shoes when I was in my senior year! On Pedder has always had a very special place in my heart <3

Thank you for having me and hosting such a memorable event! I'm definitely looking forward to more awesome events by On Pedder:)
Head over to On Pedder and check out these beautiful creations! I promise you won't regret it!
6 Scotts Road, Singapore 228209
or
391 Orchard Road, #03-04, Takashimaya Shopping Centre, Singapore 238872
So tell me, which pair of shoes stole your heart;)

toodles till later
x
Tammy

**Sorry that it took me so long to write this up and I didn't get to take much pictures because I'm still recovering from my sore hands!